KISSIMMEE CHOOSES VOX INTERNATIONAL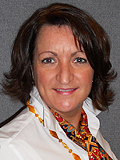 Christine Duarte, account manager, VoX International

The Kissimmee Convention & Visitors Bureau (CVB) has chosen VoX International Inc., as its marketing agency to promote the Central Florida destination in Canada. Under the direction of the CVB, the firm will be responsible for developing and implementing a marketing plan, providing a strategic direction in sales, public relations and promotions for this important international market.

Kissimmee is in close proximity to major theme parks, nature trails, championship golf courses and many other outdoor attractions.

Christine Duarte, account manager with VoX International Inc., has extensive experience in the tourism industry. Duarte will focus on business development and education of Kissimmee to the trade, as well as campaign management of all PR and advertising initiatives. The account will also be supported by the agency's team members in Quebec and Western Canada. Duarte can be reached at christine@voxtm.ca or 416-935-1896 ext 232.



---
Dave Goad

•

2012-10-25
Great stuff sis and congrats :)) Dave