Trish McTavish, McTavish Travel
She's half of the McTavish in McTavish Travel – the mom, so she says, of the agency.
But Trish McTavish didn't always know she'd spend most of her life working in the travel industry or with her high school sweetheart, at that.

Trish was born in Windsor, ON, then moving to Oakville with her family when she was 13-years-old.

She went to high school there, which is where she met Ross, the man who would soon become her husband.

"We were high school sweethearts," she smiles. "He was my best friend and we used to double date all the time. Then, one day he said 'well, why don't you and I just go out?' So he asked me out on a date and we went and we've been together ever since."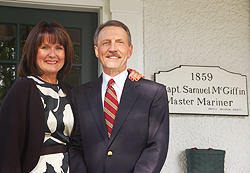 Trish McTavish with husband Ross
After high school, Trish went to teacher's college followed by five years teaching elementary school. She and Ross married when she was 21.

Once the first child came along, Trish worked as a stay-at-home mom while Ross focused on his travel agency which was founded in 1972, the same year they were married.

"So in about 1980, our son had started kindergarten and I decided, 'I'll get involved in the agency,'" she says. "And then, I was pregnant, had our daughter, but I continued to work – took three weeks maternity leave – and I've been here ever since."
Jack and Ben
They have two children – four, if you count Jack and Ben, their two golden retrievers. Their daughter is working as a lawyer and their son is a graphic designer, but their four-and-a-half-year-old grandson is Trish's new pride and joy.

The couple has been together for 45 years, and in August 2012, will celebrate their 40th wedding anniversary.

While she admits that working with a spouse has its challenges, Trish says the common ground they are able to find is the secret to their success.

"It has its challenges but I think we both have the same core philosophy and integrity and beliefs. We like our office to be like a family – he's like the dad, I'm like the mom," she says.

"Love for travel is mandatory" in this business
The McTavish family
Outside of the business, Trish and Ross enjoy golfing, sailing, good food and good wine, but despite what some may think, they don't often get to travel together.

"We found that when we were raising our kids, working and raising a family was our focus and when we could travel, we would," she explains. "Now, the kids are on their own doing well, but it's hard to run a business and be away from it all the time and our focus has been on running the business."

That's not to say they haven't travelled – sometimes together, sometimes separately. Trish has been to destinations throughout Europe, the French Polynesia, Australia and the Caribbean.
Ross & Trish accept award for Leading Agency in North America, World Travel Awards 2011
"Although we don't get to travel as much as we'd like to, we love to travel and I think being in the travel business, love for travel is mandatory – you have to have a love of travel and adventure to stay in the travel business as long as we have. So we get excitement out of what other people are doing," she says.

But it's hard for her to shake that innate travel industry instinct when it comes to judging the destinations she travels to on behalf of her clients.

"Every time I go somewhere, I'm always looking at it from the point of view of 'how would my customers like this?'" she laughs. "There are places I love, but I have to say, I'm always wearing my hat and I can't get my hat off!"

Their first trip together

Trish and Ross's first big trip was their honeymoon, when they hopped on a plane and set off for the Bahamas.
At CITC-RBC golf tournament, 2011
"We went to Nassau for our honeymoon - Holiday Inn on Paradise Island – and I just thought I was so cool," she jokes, "but we could barely afford the food so we seemed to spend most of our time going around the island trying to find cheap places to eat."

Trish says their late-blooming travel background is a sign of the times and how much the world has changed since Ross first opened their agency four decades ago.

"Back in the 60s, people would go on family vacations in the car and if you found out about someone who was going to the Caribbean, that was pretty awesome – that was pretty edgy," she says. "It wasn't that everyone went away on a Caribbean holiday every year – it just didn't happen."
At ACTA golf tournament, 2010
But, the business of travel has evolved since then – one example is that the Holiday Inn where Trish and Ross honeymooned has been completely taken over by Atlantis.

Such evolution, though, has been good for McTavish Travel which is also celebrating its 40th anniversary this year. Trish is proud to say that they have staff who have worked there for more than 30 years, others that have been with them for more than 20.

"It's really unusual in the travel business but we have a lot of staff that came out of Sheridan and have been with us ever since – this is their first job in the industry and they're still here 30 years later," she says.

Engaging youth in travel
At ACTA golf tournament, 2011
Even still, one priority at McTavish Travel is to engage and encourage young people to get into the travel industry – a cause that is near to Trish's heart.

"I really believe strongly that we have to both encourage and help young people get into this industry," she says. "That's the only thing I wish other agencies did – instead of looking for someone with experience, work with one of the community colleges and encourage kids to get into travel and tourism."

"I think that there's a misconception out there that there's no future in the travel business because of the internet – and it's wrong."
At Emirates event, January 2012
Trish has a passion for the travel industry and has made strong contributions to its development in Canada.


She served with TICO for 10 years, where for some period of time, she was vice chair. She also was president of ACTA Ontario before it was ACTA Canada, was a member of the CITC board and a member of the Greater Toronto Airport Authority board.

"I really was involved in everything that went on in the industry," she says. "I'm not as active as I was but when called up, I'm always there – if anybody needs me, I'm there, but I must say, I've been focusing on my own business."

The constant is change

Throughout her near 40 years working in the biz, Trish says she's seen a maturing of the industry due partly to technology and partly to people being more travelled.


Ross & Trish McTavish
"Let's face it – back in the 60s, early 70s when someone would come to you and want to go to Europe, it was for the first time," she explains. "And now, our travellers particularly are very well seasoned, very knowledgeable – keeping ahead of them is now the trick because they know a lot."

The constant in this ever-evolving industry is change, she says, and it's something that has to be accepted; as long as you're able to adapt, you're able to survive.

"We can quote how many recessions we've been through in 40 years – how many downturns, airlines cutting our commissions, all of these things – so you kind of sit down and go 'OK, this is the new game, these are the new rules, what are we going to do?' keeping the client as the centre,'" she says. "We have to change our business to adapt to the new environment and I think we've been pretty good at that."


McTavish Travel accepts award for Travel Agency of the Year, TRAVELHotNews.com Awards of Excellence 2011