Barceló Aims To Be Better – Not Bigger
Agent event shows appreciation for Canadian support; highlights include improvements of Bavaro property & those coming to Maya Beach
Terrilyn Kunopaski
Josep Brichs Sala, Diana Winters &

Rick McCauley

Barceló's top-selling agents joined representatives for a special event hosted last night as a gesture of appreciation for their business. While the hotel chain owns properties across the globe, the ones that remain nearest and dearest to Canadian clientele are those in Mexico and Latin America. For that reason in part, the resort chain is investing heavily in improving its 30 resorts in the region. "It's not our priority, the expansion," said...

Full text... and comments...
2013 A Year Of Change & Growth For Adventure Center
Pat Rochon leaves the company; travel trade a priority with new BDMs & national industry sales manager
Terrilyn Kunopaski
Steven Larkin

Sales are already on the rise for 2014 at Adventure Center, president & CEO Steven Larkin said in a conversation with TRAVELHotNews.com last week. The past year has been a time of change for the company – Larkin took the helm in September, the team moved to a new office location with Intrepid Travel around the same time, and last week, Pat Rochon, former national sales manager for Adventure Center, moved on after eight years. Other team changes include the appointment of two business development managers one in the west and one in the east – giving Adventure Center the on-the-ground...

Full text... and comments...
The Evolution Of Orlando Continues: Santos
Visit Orlando VP Jay Santos says people are recognizing the destination beyond theme parks; business booming out of Canada
Terrilyn Kunopaski
Jay Santos

It's amazing the conversation that a shirt logo can inspire. Visit Orlando's vice-president of global travel industry sales & marketing Jay Santos was in Toronto last week, and when in line at a local coffee shop – sporting a plaid button-up with 'Visit Orlando' above the breast pocket – those around him started talking about the destination. Some had been to Orlando before, some were planning to go in the near future, and some inquired about what kind of travel deals Santos had up his sleeve. It's clear then that brand recognition is not a problem for this Floridian destination, famous for its theme parks, theme parks, and, well, theme parks...

Full text... and comments...
Countdown to the Empire
THN is in Orlando preparing to experience SeaWorld's Antarctica: Empire of the Penguin; in the meantime, dolphins!
Zachary-Cy Vanasse
Zachary-Cy Vanasse at Discovery Cove

Large billboards in Orlando count down until the May 24 grand opening of SeaWorld's Antarctica: Empire of the Penguin, which will be the largest attraction and expansion in the history of SeaWorld Parks & Resorts. I'll be on hand to explore the brand new empire a day before it opens to the general public, but in the meantime I am in Orlando exploring some other SeaWorld Parks & Resorts attractions available for travellers to experience

...

Full text... and comments...
Cuba Cruise Wraps Up Spring Tour
Ships to begin sailing in December
Cuba Cruise is wrapping up their whirlwind tour, launching the new cruise line in Europe, Scandinavia, South America and the ongoing travel tour throughout Canada. The seven-night cruise is the only one to circumnavigate the island nation and provides guests with the opportunity to visit six UNESCO heritage sites along with a number of other ports. Beginning at $586 per person, the...

Full text... and comments...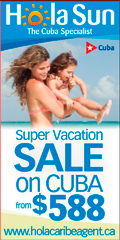 Let me hear from
you. Send your
news, events, fam
trips, special
offers, brochures
and comments to
NEWSROOM
416-581-1001
Free subscription