Challenges Facing Travel To & Within Canada: Can We Compete?
THN sits down with Greg Klassen, CTC, to discuss the 'Canada' brand & how it is holding up against the rest of the world
Terrilyn Kunopaski
Greg Klassen

Domestic travel within Canada is on the rise despite the fact that Canadians are travelling internationally at a growing rate as well. According to Statistics Canada, Canadians within Canada accounted for just over 80 per cent of total visitor spending in 2011 – up from about 67 per cent in 2000. Sounds great, right? Maybe not, according to Canadian Tourism Commission (CTC) senior vice-president, marketing strategy and...

Full text... and comments...
GOGO Canada Product Now Available On Sirev
Zachary-Cy Vanasse
Punam Pathak

GOGO Worldwide Vacations Canada product is now available via Softvoyage's Sirev shopping and booking system. The project has been in the works for approximately a year now, according to Punam Pathak, president, GOGO Worldwide Vacations Canada. "We did this - initially - in the interest of getting our GOGO content onto the FlightCentre.ca site as well as looking to the future to be with other partners who have websites," said Pathak. "We wanted to look to people who had a good stronghold - Softvoyage - in the Canadian marketplace to achieve that...

Full text... and comments...
Kucharskis Convicted Under Travel Industry Act: TICO
Panorama Travel & Tours Ltd. principals convicted on two counts
Panorama Travel & Tours Ltd., Beata Kucharski and Zbigniew Kucharski have been convicted on two counts each of failing to maintain trust accounts contrary to section 27 of Regulation 26/05 made under the Ontario Travel Industry Act, 2002. On the first count, Panorama Travel & Tours Ltd., Beata Kucharski and Zbigniew Kucharski received a...

Full text... and comments...
Unusual Items Seized at LAX
Mummified primate, elephant meat and animal skin purses intercepted
Some unusual items were intercepted at Los Angeles International Airport earlier this month. U.S. Customs & Border Protection (CBP) found half a pound of elephant meat and a dead primate at the International Mail Facility. Also found were 387 snake, lizard and crocodile skin handbags from a passenger travelling to LAX from Nigeria. Within just five days authorities seized a number of these unusual items, one even declared as a gift. Most recently, on May 10, a dead, mummified primate (Macaque) addressed to North Port, Florida was seized.Elephant meat was found just a day earlier en route to Fresno, California and on May 6, purses made of animal skins including...

Full text... and comments...
CLIA Announces New Courses At cruise3sixty Conference
Conference at Vancouver Convention Centre offers learning opportunities
Cruise Lines International Associate will present a comprehensive training curriculum, including the introduction of six new courses at its annual cruise3sixty conference, June 19-23 at the Vancouver Convention Centre. The conference will include both educational seminars along with three days of sessions led by industry leaders and cruise experts. Travel agents enrolled in...

Full text... and comments...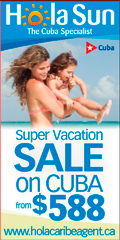 Let me hear from
you. Send your
news, events, fam
trips, special
offers, brochures
and comments to
NEWSROOM
416-581-1001
Free subscription