Youth & the Travel Industry: What Do They Think?
THN discusses the industry with the young individuals working in it today
Zachary- Cy Vanasse
Winifred Heung, Hafsa Pathan, Matt Djorsev, Lauren McPhillips & Justin Belford

Thus far in our series on youth and the travel industry, we have investigated and examined the issues and hurdles facing the industry and those young individuals looking to enter the travel and tourism...

Full text... and comments...
Viking Cruises To Launch Ocean Cruises
First new ocean cruise line in nearly a decade will begin sailing in May 2015
Viking Cruises has the announced the launch of its ocean product line, Viking Ocean Cruises marking the introduction of the travel industry's first new cruise line in nearly a decade. Developed from the ground up to return the focus of cruising to the destination, Viking Ocean Cruises will begin sailing in May 2015...

Full text... and comments...
Occidental Refinances Debt, Embarks On Refurbishment Plan
Ten Spanish & international entities endorse the hotel and resort company's 2012-2016 business plan
Occidental Hotels & Resorts has concluded its long-term debt refinancing process through an agreement with 10 Spanish and international entities, which have endorsed the company´s 2012-2016 business plan following months of negotiations. The refinancing process...

Full text... and comments...
Expedia TAAP Appoints Discover The World For U.S. & Canada
The expansion in Canada continues, since North American launch in 2010
Valerie Yacobino

Expedia Travel Agents Affiliate Program (TAAP) has announced the appointment of Discover the World Marketing as their sales partners in key markets of Canada and U.S., handling the sales and first level customer support for the program. Director of sales and marketing for this program with Discover the World is Valerie Yacobino, who has been with the company for eight years managing various accounts, and comes from a tour operator background. Launched in Europe in 2002, Expedia TAAP now partners with more than 80,000 registered travel agents globally offering ommissions when selling Expedia's global inventory. Travel agents have access to Internet rates on 145,000 Hotels, car rental...

Full text... and comments...
Princess Cruises Announces 2014-2015 Americas Program
Royal Princess to sail Canada & New England for first time
Princess Cruises announced its 2014-2015 Americas program including Caribbean, Panama Canal, Canada & New England and West Coast cruises. New sailings include Regal Princess' debut in the Caribbean and Royal Princess' first cruises to Canada and New England roundtrip from New York. On the West...

Full text... and comments...
Air Transat Wins Family Friendly Airline Award
Kids First Fund names carrier as family favourite for second time
Air Transat has won the Family Friendly Airline Award for a second time. This international distinction, created in 2011 by the Kids First Fund, is awarded to air carriers that provide additional services and extra comfort to children and their parents. This year, a jury made up of travel industry leaders shortlisted four...

Full text... and comments...
J.D Power & Associates Ranks Airline Customer Satisfaction
Air Canada remains in the top three for traditional carriers customer satisfaction, but falls six points from 2012
Airline satisfaction has improved to its highest level since 2006, driven by gains made among traditional carriers, according to the J.D. Power & Associates 2013 North America Airline Satisfaction Study released earlier this week. Overall satisfaction improved to 695 on a 1,000-point scal, a 14-point increase from 2012. Low-cost carriers continue to...

Full text... and comments...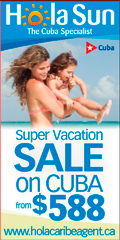 Let me hear from
you. Send your
news, events, fam
trips, special
offers, brochures
and comments to
NEWSROOM
416-581-1001
Free subscription